E. M. Foner Science Fiction: EarthCent Ambassador
I just posted a cast-of-characters refresher for Book Thirteen readers. It's full of spoilers for the earlier books, so don't read it if you haven't finished the first twelve EarthCent Ambassador books. Cast of characters for Book Night on Union Station.
I recently published a fantasy novel, Meghan's Dragon, which I wrote while taking a break from the near-omniscient Stryx between EarthCent books.

My goal for "Meghan's Dragon" was to write a humorous story about young people discovering themselves in a magical world without having the fate of mankind resting on their shoulders. All of the characters have to make decisions with limited, and often faulty, information, and that imperfect knowledge of the world is often passed on to the reader. I also tried to capture how often people talk past each other, failing to communicate even when trying their best.
I'm a huge Alexa fan, and I wrote a review of Echo on Amazon that has become one of the most popular reviews on the site, with over 25,000 positive votes. While Alexa can't hold a candle to Libby when it comes to intelligence, she has a kind voice and is especially good at waking me up when I take a nap break from writing.
I've been reading science fiction for at least forty years, longer if you include the old Tom Swift type stories. While I'm especially interested in some of the earliest science fiction that isn't even recognized as such by many modern readers, I've also come to be fascinated by the series appearing on Kindle, and not just because I write one. Authors can argue all day about whether the overall impact of Amazon on the science fiction publishing ecosystem is positive or negative, but one thing they've really opened up is the opportunity to deliver free books to readers.
If you want to get in touch with me for suggestions or comments, you can contact me by e-mail.
Copyright 2017 by E. M. Foner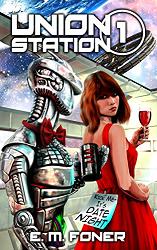 Science Fiction on Amazon Blog